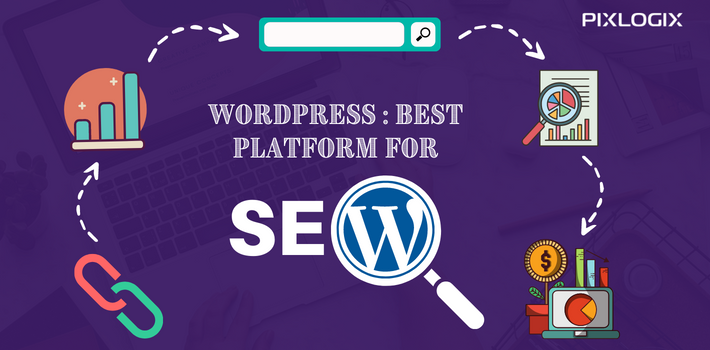 Do you know why every successful SEO experts love WordPress website? It is no wonder that currently, WordPress has more than 64.2% market share in CMS websites.
And the main reason for this huge market coverage is that SEO experts but maximum beginners also prefer to use WordPress to run their online businesses.
When deciding on your website builder and which platform is best for you, you need to think about traffic.
On the Internet, there is vast traffic plus high competitors available. If you want massive visitors to your website. In that case, you need to think about searchability and visibility and which content management system (CMS) would best support this and your other requirements.
Below, we have mentioned all the primary points for every online business owner. These are all points you get in SEO experts' favorite CMS platform, WordPress.
Reasons SEO Experts Love WordPress Website
During the online website running, you have to manage many problems, like Marketing, security, content, Integration, looks, etc. You can solve all these problems with the help of a WordPress website. And these features make WordPress so unique from other CMS platforms. For detailed information, read continue.
1. WordPress Website is Mobile Friendly
Nowadays, 58.99% of the traffic of search engines comes from smartphones and tablet devices. Therefore, entrepreneurs must adapt to this new trend if they want to maintain their digital competitive advantage.
Thus, WordPress can resolve these issues. Currently, most WordPress website themes come from mobile-optimized interfaces. Additionally, you can check how your WordPress site looks on all different devices with every change in the website design.
2. WordPress Website has Easy UX Design System
A user experience or UX encompasses all elements a user or visitor can use to interact with the business. Their services or products.
Therefore, a poor user experience can be anything from poor web design to poorly structured content and images irrelevant to the copy.
Google can understand how good the user experience of any website is from metrics like bounce rate, average time spent on the page, cart abandonment, etc. It would help if you tracked these metrics, and you can do this by Google Analytics account.
Here are some indicators that identify a terrible user experience on your website.
No share or low engagement with content.
Low conversion rate.
High overall bounce rate
Low completion rate when filling out a form, purchasing, etc.
However, with a good user experience, you can keep your visitors on your site longer and engage more with your content.
With WordPress, you have many customization options on your WordPress website, with many great plugins and themes available, more than any other competitor. Now you can be creative and design incredible websites.
3. Easy Permalinks Creation in WordPress Website
Permalinks are the web address of every single webpage. And good permalink help SEO experts are quickly ranking their website on SERPs.
With WordPress, you can easily edit your permalinks. You can do this by visiting the settings and entering the desired format.
When you customize it, a format like "http://examplewebsite.com/post-title/" is better for search engines and your visitors, who should be able to figure out the topic of your article from the link.
4. WordPress Website has Multilingualism Features
Currently, the internet has spread all over the world. However, there are lots of languages that are used by different places and countries.
WordPress now has a global reach and supports more than 160 languages ​​worldwide. That means you can create a website with multilingualism. And SEO experts can easily connect to the global audience for better brand marketing.
5. WordPress Website has Affordable Prices
WordPress is a free, open-source Content Management System. So, you can use this system without paying any cost.
When you see the features and the plans of the WordPress CMS, you feel it's worth it for you. This platform provides many price plans, so you can choose any of them and upgrade.
6. Multiple Security options with WordPress Website
WordPress is a safe platform. However, this does not mean you are entirely vulnerable to malicious attacks, hackers, and malware on your website.
Fortunately, WordPress makes it easy for you to increase the security of your site with features like password-protecting the contents of folders.
Updating your WordPress version will help you fight bugs and potential security threats. It's also easy to enable an SSL certificate for your WordPress site. Most of the time, you can only get this from your hosting web service.
You can also take proactive steps by installing a WordPress backup plugin. If your website is somehow compromised, you don't want to lose all your content and data. The plugin makes it easy for you to restore your site if something goes wrong.
7. WordPress Website is SEO Friendly Interface
SEO experts know that WordPress is suitable for using Search Engine Optimization activities. Because, in WordPress website, you can hassle freely and optimize your website without touching any hard coding of the website.
Additionally, the Image Optimization features of WordPress can give lots of support to SEO experts. Images are a valuable SEO asset and play an essential role in ensuring your content is interesting, accessible, and engaging. They provide essential contextual information to search engine bots.
On the other hand, optimized images can speed up page loading, improve user experience, and provide additional ranking options. You can do this by selecting the image editing options and filling in the "Alt text" field. For best results, include a version of the keyword. Many free options in WordPress for SEO experts can automatically optimize the size of many images.
8. WordPress Website has good site speed
Google is very interested in speed and has included site and page speed as a ranking signal. Google takes page speed into account specifically because the faster a page can load, the easier it is for the search engine to crawl the entire site and index it appropriately.
In addition, the speed of the website is essential for the user experience. Pages with shorter load times have lower bounce rates and higher average time spent on the page. For those already using WordPress, site speed should not be an issue. There are many fast-loading themes to meet all needs. You can also find plugins that have been created to increase website speed.
Increased common reasons for a slow-loading WordPress site include unoptimized images and digital assets, poor web hosting services, using too many plugins, and more. And since speed is important, it's essential to be aware of what potential obstacles may appear, when, and under what circumstances so that you can learn how to approach and deal with them.
9. WordPress Website has a Simplified Content Creation System
Starting a new WordPress site is so easy; anyone can do it. You can set everything up in a few clicks. Once your website is live, you must go to the "posts" section of the main menu. You will find everything you need to write and publish a new blog post here.
You will find text editors, formatting tools, and ways to upload media files here. As you will quickly discover, the entire process of creating content on WordPress is straightforward. So, you'll have no excuse for lacking in that department.
Once your content has been published, you won't have to jump through hoops to edit it further. You must search the post and make any changes or updates using the visual editor.
Once these changes are made, click the "save" button, and the new version of this content will be available immediately.
End Note from a WordPress SEO Expert
Using WordPress is beneficial for users and the growth of your brand and business. Its unique features and tools make this platform ideal for businesses of any size. It's easy to use, scalable, and constantly evolving, offering the flexibility your website needs.
Apart from this, if you still have any question regarding why WordPress is the best platform, feel free to contact Pixlogix Infotech Pvt. Ltd. They are leading WordPress development Company and have a team of passionate and experienced professionals who are always ready to take on any challenge.