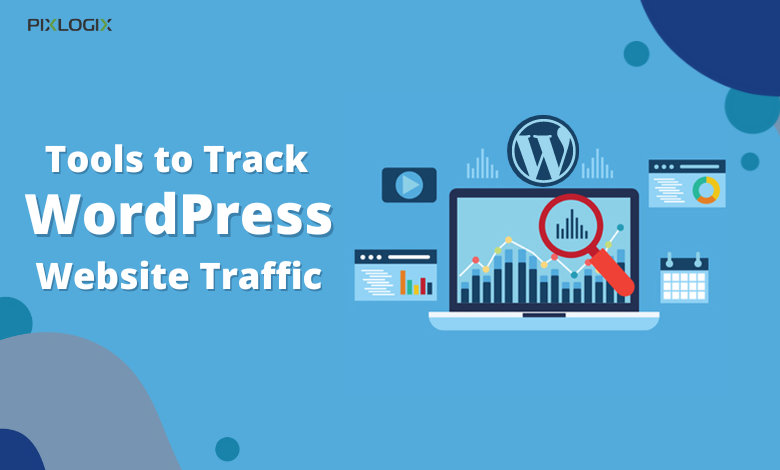 Business
Use this Amazing Tool to Track the Traffic to Your WordPress Website
Do you want to Track the Traffic to Your WordPress Website? Or do you know what your website traffic does when they open your WordPress website? Or want to know the quality of your web content and what articles attract them to your blog?
As a website owner, information about website traffic is very important.
You need to know who is visiting your site, where the visitors are coming from, and what exactly they are doing when they get to your WordPress website in real time.
At this time, you need to integrate web analytics into your WordPress Website.
Analytics determines whether your SEO and marketing campaigns drive relevant traffic to your website.
The more statistics you collect about your visitors, the better you can understand their behavior and improve your WordPress website by optimizing it for a better conversion rate.
WordPress still doesn't have built-in web analytics, and, likely, it would not because you can use tons of excellent plugins and tools to track website traffic, user behavior, and more.
In this article, I have mentioned top analytics tools that offer you the best solution for your WordPress website. According to your requirement, you select any of the Analytics tools.
Top 3 Analytics Tools to Track Website Traffic
The following are the most popular analytics tools that you can use to track traffic to your WordPress website.
1. MonsterInsights – Best Google Analytics Tool for WordPress Website
MonsterInsights is one of the most trusted and used third-party plugins for tracking website traffic for WordPress websites.
It provides you with amazing analytical tools and a user-friendly interface.
Google Analytics by Monster insights also provides you with asynchronous Google Analytics tracking code, can track search results, outbound links, and downloads, and even provide users with IP addresses hiding for tighter privacy.
When you connect your GA and WordPress site with MonsterInsights, you can see how your visitors find and use your site, and you'll know exactly how to track your WordPress site traffic.
With the help of MonsterInsights, you can set up Google Analytics on your website without touching any code.
You can get more clicks and enhance SEO suggestions using the Headline Analyzer in this WordPress plugin.
Benefits of MonsterInsights:
With MonsterInsights, you don't have to wait until the next day to learn about traffic peaks or potential problems.
You get real-time insights to unlock the maximum potential revenue for each customer.
MonsterInsights uses universal tracking so you can track your users across devices and platforms.
You can also better understand your audience with demographic and interest insights.
You can easily track the source visitors use to find your website to better focus on the marketing efforts of your WordPress website.
With the help of custom post tracking, you can easily track the performance of your custom post types.
The MonsterInsights plugin helps you add Google Analytics eCommerce tracking to your WordPress WooCommerce and Easy Digital Downloads store.
You can take full advantage of all the powerful features of Google Analytics, such as outbound link tracking, custom dimensions, event tracking, file download tracking, performance tracking, and more.
The plugin's premium version gives you access to custom reports, 24/7 technical support, and AdSense tracking.
With the help of MonsterInsights, you can disable the loading of the Google Analytics tracking on any specific pages or posts of your WordPress website.
It is an extremely customizable plugin that controls the tracking code completely.
Therefore, it is no wonder that this analytics plugin has become essential for some of the most successful WordPress business websites.
If you are facing trouble setting up your Analytics and executing the Marketing campaign on your WordPress Site. In that case, you can hire a Digital marketing professional such as Pixlogix Infotech Pvt. Ltd.
This company has more than 10 years of experience in web design, development, and promotion.
With the 99% client satisfaction ratio, you can ensure that your website is in good hands.
So, visit here to contact them if you are looking for a passionate digital marketing expert.
Now back to the topic, after the MonsterInsight, you can use this next Analytics Plugin for your WordPress Website.
2. AFS Analytics – Powerful Analytics Plugins for WordPress Website
AFS Analytics is a powerful plugin that allows you to explore your analytics with a drag-and-drop canvas, modern data visualization, Heatmaps, Events tracking, and Funnels while getting a robust real-time picture of your visitors' behavior.
And also, you can get stats about your web content quality.
You will be able to analyze your visitor behavior and understand what is needed to improve your website content. Automatic event tracking is also included, from downloads, clicks, video views, form accesses to submissions, scroll depth, etc.
AFC Web Analytics gives you two real-time reports that are constantly updated.
The real-time dashboard displays your website metrics on one page, and the "Right Now" report lets you track the current activity on your website.
This plugin also comes with an algorithm that can recover the keywords used by each visitor in real time. Artificial intelligence makes prediction more accurate and powerful over time.
With Advanced SEO and IA Powered Keywords discovery features, you can improve your SEO and get a high ranking in SERPs.
3. Site Kit by Google – All in One Analytics Solution by Google for WordPress Website
Site Kit is the best option for your WordPress Website if you want to use any Google products.
It allows you to integrate Google Analytics with a WordPress site.
The tool is owned by Google and is specially made for WordPress site owners who want to track user activity and overall traffic.
You can view their traffic by going to the provided dashboard without leaving the WordPress dashboard.
With the help of easy-to-understand stats on your WordPress dashboard, you can study your website performance.
In this WordPress analytics plugin, you can add all Google webmaster tools and get all in one dashboard for your WordPress website.
Apart from this, a quick setup for multiple Google tools without extra source code editing can save you time and money.
This tool gives you metrics for your whole site and specific posts.
Site Kit provides solutions for managing and deploying additional Google tools for better web monitoring.
The below-mentioned all tools support the Site Kit by Google, and as a WordPress Website owner, you should add that to your website:
PageSpeed Insights:

With PageSpeed Insights, you can see how your pages perform compared to other real-world sites. And improve your WordPress website performance with workable tips from PageSpeed Insights.

Search Console:

With the bits of help of Google Search Console, you can understand how your pages can discover and display on Google Search. And also track website traffic in Search results and which query they used to search for your site.

AdSense:

It's an Advertisement tool that can interlink your website and Google ads network to showcase ads from different business brands. Adding this tool lets you track your WordPress website earring from Google AdSense.

Analytics:

With the site kit, you can explore how users navigate your site and track the goals you have set up for website traffic to complete.

Optimize:

You can use Site Kit to set up Optimize, and then you are able to set up A/B tests on your WordPress website.

Tag Manager:

Tag manager helps you add any tracking code tag to your WordPress Website. Use Site Kit to set up Tag Manager with easy code editing. After that, you can easily manage all your tags in Tag Manager.
Site Kit is free to use, easy to manage, and can be set up in minutes.
Final Words
Choosing a tracking plugin for your WordPress site must first and foremost be done according to your goals and needs.
Each plugin serves the same purpose – collecting data about your website visits.
No matter what data you get, you need to use the statistics to constantly test, adjust and improve your WordPress site to scale it for more visits and a better conversion rate.
If you want to track traffic volume, you can choose the above tools to support your analysis. If you want to dive deeper into data, some solutions and premium versions are better than others on the list. Pixlogix Infotech Pvt. Ltd. is a WordPress Development Services with a team of passionate and experienced professionals. For more information visit www.pixlogix.com today!