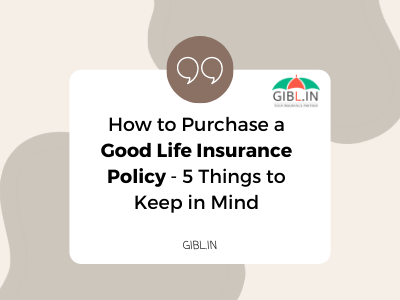 A typical Indian's ego and ignorance hinder him from discussing financial facts with his family. Whether it's financial investments, real estate, or something as essential as a good life insurance policy purchased, this tendency is consistent. In the event of a sad situation, the family must go through the effort of sorting out the paperwork(s), and these investments may go undiscovered in some cases.
Here are five things to consider when purchasing a life insurance policy:
Notify your relatives and friends that you have purchased a policy
Keep the policy document in a visible location and inform your family about it. One of the most significant investments for financial stability, life insurance, should be handled with extreme caution. The whole point of getting a life insurance policy is to protect your family financially, therefore the first thing you should do is tell your family (spouse, children, and close relatives) about it. This holds for all financial investments, including gold, fixed deposits, loans (lendings/borrowings), and cash.
Ideally, each of the following items should be written in a tiny diary or note (digitally on a home computer if available). Most importantly, inform your family (in case of digital, keep a reference of passwords). In the case of life insurance, keep track of the policy number, insurance amount, maturity date, kind of policy, and beneficiary name, among other things. This would save the family the stress of completing paperwork or just missing out on money, and it would allow them to recover their rightful money quickly.
Do not purchase unless you have done sufficient research (over the internet, physical approach)
The phrase "Caveat Emptor" or "Buyer Beware" applies to all purchases, including life insurance. Simply, you should know what you're purchasing. If you need life insurance (which everyone needs), you should understand the many types of policies, the different levels of insurance, the different durations, and so on.
Many tools (Need Calculators) and literature (both online and offline) are available to help you understand the complexities of these factors. This is your right, so please make good use of it. Please keep the following points in mind as you conduct your study.
a)

Human Life Value – Your value

b)

Purpose of insurance (Protection of living standards, children's education/marriage, retirement, or asset management))

c) Product type – Pure term life plan, unit-linked plan, traditional plan, group credit protection plans, etc.
d)

Affordability – How much policy premium is affordable/monthly or annual premiums etc.

e)

Claim ratio and experience

f)

Ease of Policy servicing

g)

Performance of funds – CAGR for ULIPs and annual bonuses for traditional plans
A thorough investigation that leads to a well-considered conclusion is a job well done, so please take note.
Never go for a low sum assured
What is the worth of a person's life? Purchasing life insurance coverage is a responsibility, not a requirement. Never acquire insurance because you feel obligated to because you will unwittingly reduce the value. In one of our claim instances, the woman (nominee) questioned why we did not get her husband to take more insurance because the amount taken (Rs 3 lakh in this case) was insufficient to suit her needs in any case. As a result, we can answer the question of how to calculate human value.
In simple terms, human life value can be described as an individual's lifetime earning potential. Every adult with a job, including housewives, has a human worth. For example, if Kumar is 30 years old, earns 5 lakh per year, and plans to retire at 60, his human life worth is Rs 1.5 crore, according to a simple estimate (5 Lakh X 30 years to retire). We've anticipated no future increases and inflation for this. If we sum them all up, Kumar's human life is worth more than Rs 4 crore. In such a circumstance, Kumar should purchase insurance that is consistent with his income so that his family may maintain their standard of living in the event of an unanticipated event. You, as a reader, must also consider it. As a result, while purchasing a life insurance policy, it is vital that you measure your human value and then make a calculated decision on the insurance amount.
Determine your need first, then purchase a solution.
We enlist the help of our family when purchasing even the most insignificant items, such as household items or cell phones. When it comes to purchasing something as crucial as "life insurance," however, we entrust it to an agent or intermediary. Purchasing life insurance is one of life's most essential decisions, and it should be made with your entire family in mind. Because it is the most significant tool for financial stability, it must be included in the decision-making process.
However, before you do that, you must first determine the exact "need."
In general, there are four types of life insurance requirements.
1) Protection of the standard of living for the family
2) Providing for a child's education or marriage
3) Making plans for your retirement
4) Plan for seamless handover of your inheritance to the next generation
There is a specialized solution for each requirement available through the spectrum of life insurance products. As a result, it's vital that you first identify the problem before looking for the best remedy. As previously stated, do not scrimp on the solution; instead, go to great lengths to guarantee that it meets all of your requirements.
One of the most crucial aspects is "periodic reviews" of your need and the solutions that go with them. Every year, you should check your life insurance plans, and depending on your needs, you may need to purchase additional coverage. 
Never let your insurance policy lapse. This is the most important security measure you can take.
If you have a life insurance policy, phrases like "lapse," "discontinuance," and "surrender" are not appropriate. This occurs when you stop paying your premiums or decide to cancel your coverage before it expires.
Let's get one thing straight.
Life insurance is a "luxury" rather than a "right." It is a privilege to obtain insurance from an insurer because of one's good health (insurable health), net worth (insurable interest), and trustworthiness (utmost good faith). You lose the "privilege" simply by quitting or lapsing it. 
By lapsing, you are depriving your family of a basic right to live. You may not be in good enough condition to take out new insurance after it has lapsed, or your policy may be denied due to health concerns. All of these are avoidable events that would result in your family losing these advantages if you were not present.
Life insurance is not a "disposable instrument" that you can use to meet a specific demand (from the one that you had identified while purchasing). As a result, keep the policy without jeopardizing the goal. If you have a financial emergency, there are options such as partial withdrawal against policies that you can use.
To conclude, determine your needs, purchase insurance after conducting thorough research, and pay premiums on time to guarantee that benefits are fully utilized. Never, we repeat, never cancel coverage because it would jeopardize your family's financial security.