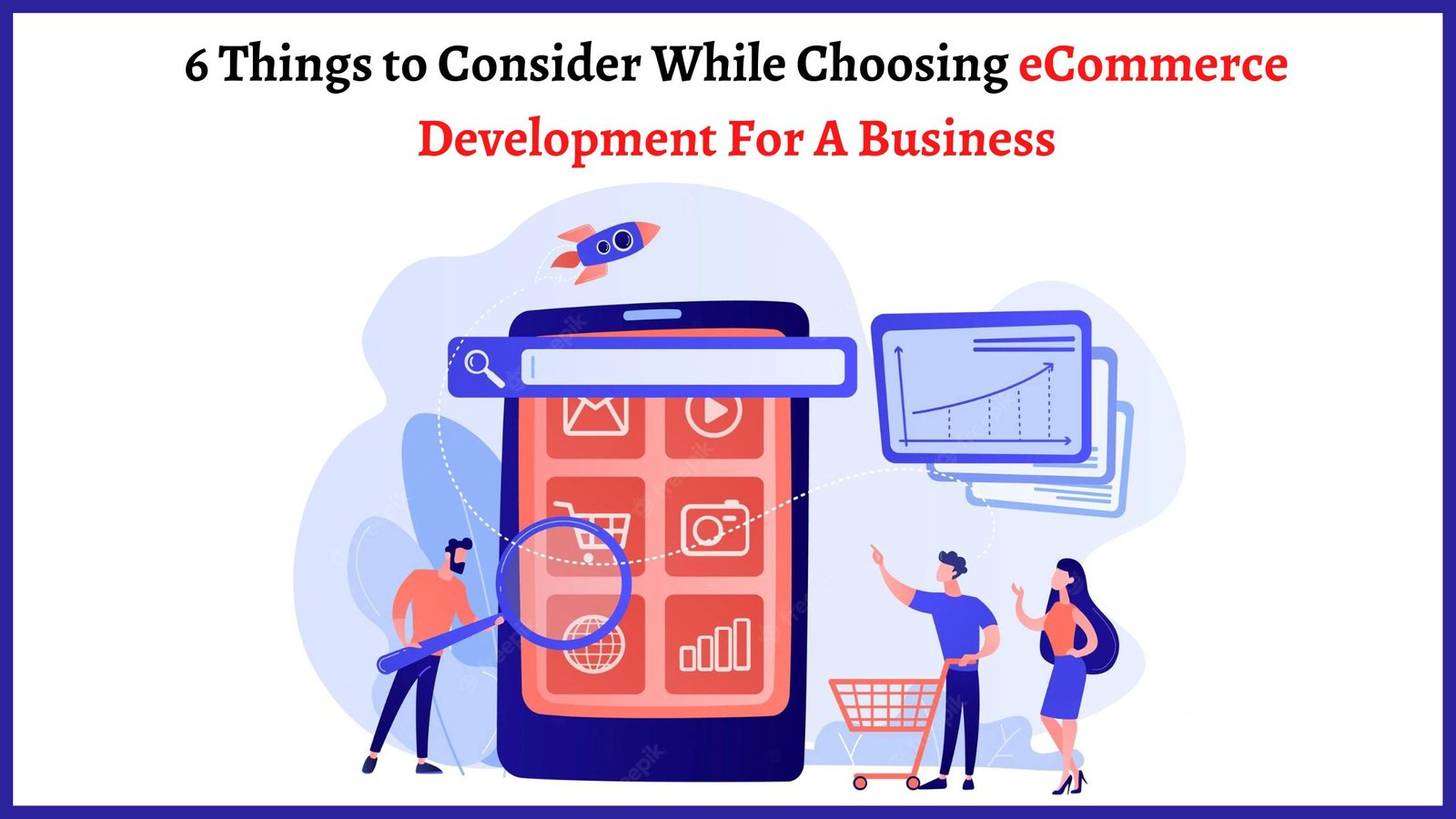 Computers and Technology
6 Things to Consider While Choosing eCommerce Development For A Business
Choosing eCommerce Development For A Business
 If you are starting a business, an eCommerce website can offer you global brand recognition.  But, with the proper steps like which platform to choose, how much it costs, etc., and partnering with a skilled company, you can develop a feature-packed eCommerce web solution for your business.
However, with the cluster of companies, you will need help in identifying the right eCommerce development company for your project.  Therefore, this blog discussed the essential things you should consider while choosing eCommerce development for your business.
So, let's dive into the blog to understand more about those things.
Things To Consider
Platform
When developing an eCommerce website, the first thing to identify is which platform best suits your business. For example; if you want an eCommerce website with ease of use while operating and that too with fast development; then Shopify is the best suit for your business. On the other hand, if all the eCommerce development you want is according to your requirements, consider other platforms, such as WooCommerce, Magento, etc., that offer superior customization ability.
All-in-all, selecting a platform that resonates with your business needs would be an effective step for your business.
Cost
Be sure to evaluate the costs associated with different eCommerce development options. Some eCommerce platforms initially have a monthly payment fee; depending upon its type (hosted/ self-hosted), the price may vary. Do not sacrifice things you will need for your project. However, it includes not only the initial setup and fees but also the maintenance, hosting, and transaction fees.
Scalability
It is an important consideration when opting to develop an eCommerce solution. As your business grows, you want an eCommerce platform that grows along with you. It is because your eCommerce platform is the central hub of your business. A platform that is difficult to scale can limit your business's growth. Hence, choose a platform that can handle the increased traffic, products, and orders as your business expands. 
Third-Party Integration
Consider what tools you need or already use for your business when looking at different platforms. Platforms such as Shopify, WooCommerce, or Magento provide plenty of tools for your business. Another important consideration is the integrations and plugins. Thus, your chosen platform should seamlessly integrate with tools and systems such as payment integration, shipping integration, etc. 
Security
Data security is of utmost importance when developing an eCommerce website. Ensuring the security of an eCommerce platform is essential in protecting the customers' sensitive information and maintaining the business's trust. The eCommerce platforms handle sensitive data such as payment information, customer details, purchase history, etc., making security a top priority. Thus, choose a platform with robust security measures to protect your customer's data. 
Customization
It is an essential aspect of eCommerce website development, as it allows businesses to tailor their online stores to meet their business's specific needs and goals. This process involves various elements, such as the website's appearance, layout, and functionality. So, choose a platform that offers a high level of customization to make your website look more personalized. 
Conclusion
Whether you are starting a new business or shifting from a brick-and-mortar business to an online one, the points mentioned above should be kept in mind. These include the platform you choose, its cost, security, level of customization, scalability, etc., to develop a feature-rich online store.
Thus, by taking the time to consider all these points carefully, you can hire eCommerce web developers to develop a feature-rich eCommerce website. It will be a good fit for your business needs and helps to create a compelling and successful eCommerce store.
Also read Technology