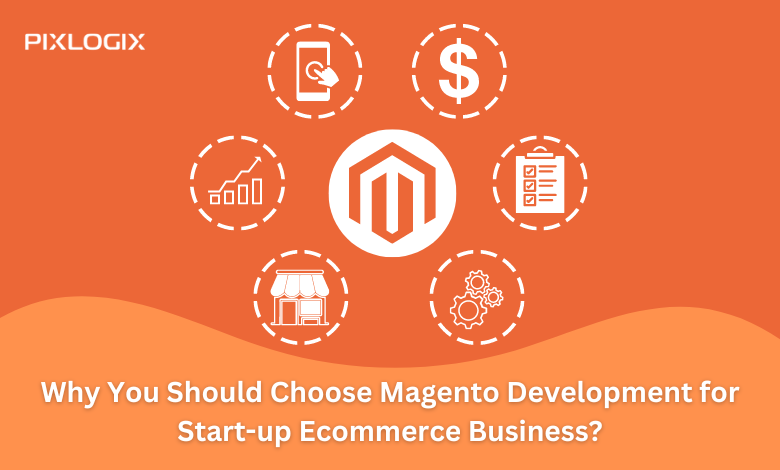 Business
5 Tips Why You Choose Magento Development for Start-up eCommerce Business
Are you looking for the best eCommerce development solution for your new business?
If "yes", you should choose Magento development for start-up eCommerce.
In this blog, we will discuss all important questions, such as "Is Magento website development the best choice to make online shopping stores? Is this website builder perfect enough to give top-level services? Lastly, is Magento website development profitable for your online shopping business?
We will also discuss some impressive stats and facts about Magento ecommerce development that blow your mind. So, let's start the journey of finding the answers to all the questions.
Top 5 Reasons Why You Should Choose Magento Development for Start-up Ecommerce Business
In this blog, we are going to share the top reasons why you should choose Magento Development for a start-up eCommerce business.
1. Manage Multiple Stores
If you love to grow, then you are definitely planning to start multiple ecommerce stores to generate more and more profits. But as a start-up eCommerce business, only some entrepreneurs can afford a large maintenance team for managing numerous eCommerce sites. You should set up a single admin panel to manage multiple sites.
Earlier it was pretty tedious to manage Magento Multi Store Website settings from a single admin panel. But with Magento, it is now effortless. Moreover, you can run your business 24×7 using this platform. If you want to handle only some of your stores from one panel, then Magento makes it easy to set up each store separately along with the admin panel.
2. Full Customization Features with Magento Development
Magento provides excellent customization options that enable users to design their eCommerce store as they wish. Additionally, it effectively manages e-commerce product pages, sales and product viability. Skilled Magento developers are well experienced in using the customization tools available to modify the functionality of the shopping cart.
3. Magento is SEO and Mobile-friendly
When it comes to SEO techniques, Magento provides many things that other platforms do not. It is equipped with a built-in digital marketing assistant. This allows eCommerce store owners to analyze and manage website traffic quickly.
Magento suggests SEO-friendly URLs, sitemaps, meta tags, and keywords. This is very beneficial both in terms of improving website indexing in search engines and increasing the customer base.
Moreover, let's answer, do you carry a smartphone?
Obviously yes!
We all have it in our hands. Internet connectivity allows users to access web stores whenever they want to buy something quickly. And it would be risky for an eCommerce store to neglect this platform.
Magento development offers great mobility features to its clients. This allows users to drag, zoom, and scroll the Magento-developed e-commerce platform.
4. Easily Third-Party Integration
Magento allows you to easily integrate any 3rd party extensions, applications and additional plug-ins to optimize your ecommerce stores, such as payment gateways, marketing automation, shipping providers and tag management tools.
5. Restore Inventory Management
Powerful inventory management lays a solid foundation for an e-commerce business model. With the help of the Magento API, it becomes convenient to set up the protocols, tools and routines needed to create an eCommerce store. If you opt for a Magento development service, the entire process of developing and updating inventory lists will be simplified.
As you see above, mention all the factors that are very basic and essential at the same point. In the lack of the features discussed above and functionality, you face hassle running your eCommerce business. Apart from this, let's see some impressive stats and facts about Magento ecommerce development.
Statistics of Magento eCommerce Development
This list of Statics and facts can show you the resulting number of how Magento development can be helpful in an Ecommerce business. So, let's see this.
Magento has an Open-source Platform.
Magento is an Open-Source eCommerce platform written in PHP, and you can use it for free. Varien Inc, a US private company in Culver City, California, developed this platform. During the development of Magento, many volunteers contributed their assistance, and it is distributed as open-source software.
Magento has 167,000 activated eCommerce websites.
According to studies, more than 167,000 activated online stores are running on the Magento development platform in 2022.
Magento powers about 6% of all known websites
According to a survey conducted by W3Techs, Magento currently has 0.6% market share of all known websites, some of which are CMS-less or with their codebase.
Magento powers 2.3% of eCommerce Websites worldwide.
According to one Top 10 eCommerce Platforms list report released by Pipecandy, Magento powers approximately 154,309, or 2.3% of all eCommerce stores worldwide.
10.24% of Magento stores are based in the lifestyle industry
According to one report by SimilarTech, 10.24% of Magento stores are based in the lifestyle industry, followed by the home and garden industry. This data indicates that Magento is the highly preferred ecommerce platform for ecommerce business owners in the lifestyle industry.
The Magento Development platform code has been downloaded more than 2.5 million times.
According to one report, the Magento platform code was downloaded more than 2.5 million times in 2019, and more than $155 billion worth of business was done through Magento-based eCommerce platforms. The number and numbers are increasing every year.
Magento remained one of the top ten most popular e-commerce platforms in 2021
According to one report published by Trustradius, Magento Commerce remained one of the most popular e-commerce platforms in 2021. This is because of the wide range of benefits and features that this platform offers to online merchants.
Businesses that use Magento grow 3 times faster than other ecommerce store
Magento is a highly flexible and robust e-commerce platform that allows merchants to scale their business effortlessly. According to one report, companies that use Magento tend to grow almost three times faster than businesses that use other e-commerce platforms.
There are more than 3500 Magento extensions available in the Marketplace.
Magento is a highly flexible and versatile eCommerce platform that comes with tons of built-in features and functionality. More than 3,500 Magento extensions are already available on the Magento marketplace to extend its functionality.
This allows merchants to extend the functionality or create their own extensions according to their requirements.
Magento processes $155 billion worth of transactions every year
Magento website statistics show that it processes more than $155 billion worth of transactions every year. Magento usage statistics show that it is more than a third of the volume handled by top retailers in the US and Canada.
Most Magento stores are in the United States.
According to one report, most Magento eCommerce companies are from the United States. A total of 55,915 Magento stores are from the US, representing 37.48% of the total number of Magento stores worldwide.
Final Notes
In a nutshell, many ecommerce business owners find Magento development more beneficial for their eCommerce development. So, it is clear that Magento simplifies the arduous task of designing an agile and competitive online platform. Its popularity is growing rapidly because it has everything you need in its online store.
With all the above advantages, it wouldn't be wrong to say that Magento is the best eCommerce platform for start-ups right now. Choosing a reputable Magento development company can prove fruitful if you want a web presence that is distinctive and engaging.
Besides, if you are looking for a Top Magento development company in India, you should go with Pixlogix Infotech Pvt. Ltd.
This is India's leading Magento development services provider that offers ultimate solutions for your business. As an eCommerce Online store development, this company can have more than 520 clients with a 99% satisfaction rate.
So, if you have any queries, don't hesitate to contact them.