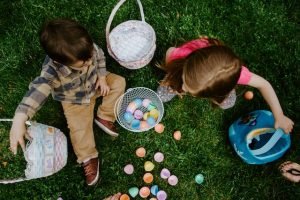 Easter is a special holiday that is all about spending time with loved ones and celebrating new beginnings. For kids, it's a time of fun and excitement, with egg hunts, Easter crafts, and tasty treats. Ways to make this Easter extra special for your children, we've got you covered! Easter is a fun holiday you should spend with the kids. Here are 10 different ways you can spend Easter in UK with the family in style!
1. Have a picnic:
Easter is a great time to enjoy the outdoors, so pack a picnic lunch and head to a nearby park or playground. Here are some easy ideas to work with if you plan to go on a picnic.
Finger Food
To start things off, let's take a look at some simple snack ideas.
Devilled Eggs, this savory snack is sure to get your taste buds ready and can be prepared well in advance.
Crisps, who doesn't love them?  variety of flavors and make for an easy snack idea.
Spring rolls can be filled with anything you can imagine, vegetables, chicken, pie filling,
Sandwiches
Sandwiches are easy to prepare and can be made with a few ingredients and your choice of bread.
Egg and mayonnaise is an easy yet delicious combination we all love to eat, the filling is easy to prepare. You need hardboiled eggs, mayonnaise along with some seasoning. The best bread would be sliced loaf bread.
Want a more fishy filling? Try out smoked salmon and cream cheese bagels. Cut your bagels in half, spread a generous amount of cream cheese, and top it off with some smoked salmon and a drizzle of lemon juice. These are sure to make a hearty meal.
We also recommend the classic family favorite, the BLT! As the name suggests the filling would include bacon, lettuce, and tomatoes. You can add your favorite dressing to add a bit of zing.
Sweet Treats
Easter-themed cookies are a fun and yummy treat everyone's going to love. If you have kids you can get their help in preparing the cookies. They're going to love the whole experience.
Carrot cakes fit the whole Easter theme, cause of rabbits?.. Eat carrots? Besides, who doesn't love carrot cake? Incredibly underrated dessert item.
Homemade banana pudding, you need a basic vanilla pudding mix, whipped cream, powdered sugar, and you guessed it! Bananas. Prepare the pudding, slice fresh bananas into it, and a generous amount of whipped cream topped with powdered sugar.
Drinks
There are so many options when it comes to beverages as they are easy to prepare or purchase.
Fruit juice, colorful and healthy fruit juice is easy to prepare in bulk or purchase in the market.
Ginger beer is a classic, similar to fruit juice. It can be prepared at home but takes a bit more effort.
Peach iced tea, all you need is sugar, black tea, and peaches. You simply have to dissolve the sugar and infuse it with peaches. Add the syrup to a pot of mild black tea, and there you have it!
2.      Dye Easter eggs:
This classic Easter activity is always a hit with kids. You can use food coloring or natural dyes to create a rainbow of colorful eggs.
Firstly, grab some eggs. The eggs could be raw, boiled eggs, plastic eggs, or even one made of chocolate!
Make sure you get food-grade coloring that is non-toxic paints to colour the eggs for your loved one!
Let everyone grab a brush and go nuts!
3.      Attend an Easter parade or event:
Check your local community calendar for Easter-themed events, such as parades, egg Rollings, or bunny hop races. Look up which parades are in town or attend one held out of town. Make sure you dress up accordingly to get the best experience!
4.      Visit a farm:
Many farms offer Easter-themed activities, such as petting zoos, egg hunts, or even visits with the Easter Bunny. As well Look for local farms that celebrate Easter, and sign up for the event! Moreover, there are a variety of events held at farms, and all of them are super fun!
5.      Watch an Easter-themed movie or show:
Gather the family together and watch a fun Easter-themed movie or TV show. Movies are a fun experience for all and we recommend saving them for night-time. Grab some popcorn and cuddle up with the family to watch an Easter-themed movie or movies! Some popular options are Rise of The Guardians, Zootopia and Prince of Egypt.
6.      Have an Easter egg decorating contest:
Have each child decorate their hard-boiled egg using markers, stickers, or other materials. Then, have a family vote to determine the winner. It is a fun activity all kids will enjoy. We recommend talking to your neighbors and having a decorating contest where all the kids get to participate and enjoy themselves while getting to know each other better.
7.      Bake Easter treats:
Get the kids involved in the kitchen by making Easter cookies, cupcakes, or other sweet treats. You can even decorate them with Easter-themed sprinkles or frosting. Kids love being part of the baking process. All you need to do is prep some baked goods for them to decorate. They can use sprinkles, colored whipping cream and frosting, cookie cutters, and much more!
8.      Have an egg hunt:
Hide plastic or chocolate eggs around the house or yard for the kids to find. You can even make it a competition, to see who can find the most eggs. In addition, Egg hunts are loved by all and are more fun when more people are involved! The egg hunt can be enjoyed by kids and adults alike!
9.      Make Easter-themed crafts:
There are plenty of fun and easy Easter crafts that kids can make, such as baskets, bunny ears, or paper flowers. Moreover, Easter-themed crafts is can be taken to parades, picnics, and much more! This will make the entire Easter experience so much better.
10.    Go on holiday!
Several locations are particularly fun during this time of year. Holidays can be a time for you and the family to get some rest before getting back to life after Easter is over, and we have a few locations prepared just for you.
Holiday at Majorca
Holiday at Antalya
Phuket Holiday
Algarve Holiday
Further If you want to know more about these holidays. Feel free to contact us. We can prepare the ideal holiday for you and your family. Finally We hope you have a wonderful Easter. In conclusion, Easter is a wonderful time to celebrate with your children and create special memories together. By incorporating these creative and fun ideas into your Easter festivities, you can make the day even more special and enjoyable for everyone involved. Whether it's decorating Easter eggs, having an egg hunt, or baking Easter treats, there are so many ways to make the day memorable and festive. So, get creative, have fun, and enjoy this special time with your family! Happy Easter!
Further If you want to know more about these holidays. Feel free to contact us. We can prepare the ideal holiday for you and your family. Finally We hope you have a wonderful Easter. Get ready to make this Easter memorable for your kids. From egg hunts to baking treats, here are 10 fun & creative ways to celebrate in style.