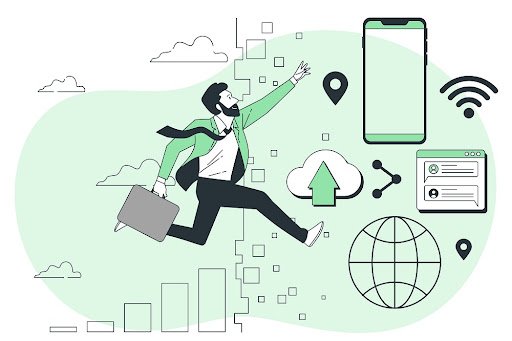 The trend of digital transformation in business has been gaining momentum. Now more than ever, it's essential that companies utilize technology to take their business to the next level and stay competitive.
Every industry has been turned upside down via digital transformation of business – and yours isn't an exception. Statista says the global digital transformation spending will cross $1.8 trillion in 2022.
DX has become a survival factor for most enterprises. To compete effectively in today's world, your company needs to transform itself into an enterprise that can compete digitally.
How? These six benefits of digital transformation in business will help you see how your company can benefit from this change and win over your customers! Read on to learn more!
1) Enhances Client Satisfaction
Businesses can offer a better experience for customers and clients by automating processes and workflows. It increases satisfaction and leads to repeat business and referrals, which can help a company grow. Client satisfaction depends upon businesses being fast, friendly, and knowledgeable. It's hard for a company to accomplish that.
By optimizing an existing system or working on an entirely new design, businesses can create a seamless digital experience for their clients that will improve satisfaction. If clients are happy, they are more likely to return and make future purchases with that business. It increases profits while also bringing valuable repeat customers into your client base.
Additionally, it is easier for clients and customers alike to share their experiences on social media platforms due to technological advances. It helps spread positive reviews even faster and further enhance your reputation within your industry as a top business with high customer satisfaction ratings.
2) Promotes Data-Based Insights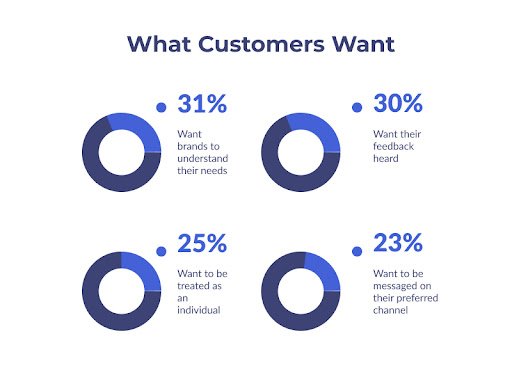 With digital transformation, businesses have access to more data than ever before. It can be leveraged to improve marketing efforts, understand customer behavior, and make better decisions about products and services. Unlike random guesses, data based-insights are far more effective.
For example, a retailer who sells winter clothing could use their newfound data to predict how much stock they will need for next year's winter season. By knowing this information, the company can manage inventory effectively to meet customer demand.
Data also allows companies to become more innovative because it enables them to explore new ideas which are not easily feasible with old business models.
3) Leads to Ultimate User Experience
Another benefit of digital transformation in business is that it leads to the ultimate user experience. By making your software more user-friendly and accessible, you can attract more users and keep them returning. It helps you build an LCB (loyal customer base) and increase your chances of success. So if you're looking for ways to grow your business, consider the benefits of digital transformation.
What drives user experience are speed, design, and ease of use. These three things' quality is determined by how well you understand what your customers want from their app or website. If there's one thing all successful companies have in common, they have an intimate understanding of their customer's needs because they take the time to listen to them firsthand.
Digital transformation consultancy companies in India like Abhi Tech offer this type of consulting service as part of their package. For example, any business with an online presence can benefit from a website redesign and ecommerce development services.
4) Leverages Software Monetization
One of the benefits of digital transformation in business is that it can help you monetize your software. Turning your software into a service can start charging for it and generating revenue. It is a significant strategy to boost your bottom line and grow your business. Plus, it can help you offset the costs of developing and maintaining your software. 
The Business Research Company reports that the global SaaS market will grow from $212.20 billion in 2021 to $240.61 billion in 2022 at a CAGR of 13.4%. By 2026, the market will reach $374.48 billion at a CAGR of 11.7%. 
With such potential growth and neglecting digital transformation, a company will likely become outdated sooner or later. In addition, software development companies can offer a range of additional value-added services by transforming software into a service. By leveraging these other services and going digital, such companies can earn more from each client. 
5) Great for Collaboration
One of the best benefits of digital transformation is that it promotes employee collaboration. Digital transformation leads to cloud-based applications and platforms, allowing easy collaboration among employees. It also leads to more sophisticated tools that allow for real-time collaboration among employees. It is beneficial because it helps to improve communication and coordination among employees, which can ultimately lead to a more productive workplace.
For example, with companies utilizing cloud-based applications like Google Docs, users can share documents or collaborate in real-time. Furthermore, with video conferencing platforms like Skype or Zoom, employees can communicate visually with one another and hold virtual meetings where they can see each other while they are speaking. 
Digital transformation enables better human resources management by providing new ways for employers to monitor employee performance and efficiency through software-based solutions such as Salesforce or Slack. Software solutions offer these kinds of analytical insights about work patterns, company information, etc., so that managers can have an accurate assessment of an employee's performance.
6) Minimizes Human Error
A study by Michigan University says that human error could cost businesses an average of $17,000 per year per employee. But with digital transformation, companies can minimize human error by automating tasks and processes. It not only saves money but also assists in improving efficiency and accuracy.
Digital transformation successfully reduces human error as it offers the following:
Real-time updates about inventory, order status, and inventory levels

Generates new orders automatically

Automatically reorders products if they are running low on inventory

Aligns workflow more efficiently

Alerts management about any errors or delays in the process

Saves time for customers
Moreover, with the latest technologies like AI and blockchain, the business can save time and resources on data processing, which can go towards other valuable efforts. Data analytics is another vital part of digital transformation.
In today's world, where everything is digitized, analytics has become crucial for companies' success. With these insights into data gathered from different sources within the company, employees can make better decisions when making changes within their organization – this improves customer satisfaction and boosts revenue growth!
Read Also: 5 Blockchain Industry Trends You Need to Know in 2022
Wrapping Up
Any business transformation will require some investment, and digital transformation is no different. But unlike other business transformations, DX's return on investment (ROI) is much higher.
It has been estimated that every $1 invested in DX leads to $13 in increased productivity. That's a pretty good ROI!