Tech
The WordPress Security Plugins to keep hackers out
Are you looking for the best WordPress security plugins to protect your site from hackers? If yes, then you are at the right place.
In this blog, we will discuss why your website gets hacked, the most common WordPress cyber-attacks, signs of your site getting hacked, how to make the site safe, and the best WordPress security plugins.
WordPress is a very popular CMS with more than 63% on the website; it is the premium target of hackers. These hackers always try to find the loops and hack your site, steal your data, or do other illegal activity. When your site becomes an online brand, security is the main issue. To resolve these issues, we must first know the types of Cyber hacking. So, let's begin.
Most Common Types of WordPress Internet Attacks
When you do not take the security of your WordPress site seriously, then it gets trapped by hackers. Below are some most common types of the internet attacks which hackers practice on WordPress site:
Brute-Force Login Attempts
Cross-Site Scripting
Distributed Denial-of-Service Attacks
Backdoors
Database Injections
Malicious Redirects
Hotlinking
Phishing
WordPress SEO Spam
Ransomware
Malvertising attack
Defacements
Manual attacks
These online attacks occur because of loopholes in the security of third-party like plugins, themes, and other services. It is also possible if you use an older WordPress version and PHP.
Sign of Your Site Get Hacked
When your website gets hacked, then how do you get to know about that? Well, these are the checklist of some common signs that information about your hacked site.
Sudden Drop in your website traffic rate
Bad links added to your website
Your website's homepage is defaced
You cannot login into your WordPress site
Suspicious User Accounts in your WordPress users list.
Unknown files and scripts on your site's server
Your website is often slow or unresponsive
Unusual activity in server login
Failure to send or receive Emails from WordPress
Suspicious scheduled tasks
Hijacked search results
pop-ups or pops under ads on your website
Core WordPress files are changed
Users are randomly redirected to unknown websites
Weird content
Check googles site view for WordPress pharma hack
Check out what searches are bringing people to your site, whether the keyword "viagra" or any other spam keyword.
These are some common signs of a hacked website; if you are facing this problem, you need to consult WordPress experts to resolve these issues before they destroy your brand.
List of Best Security Plugins for WordPress
Here is the list of the best WordPress Security Plugins. In this list, you will find many free plugins that protect your site from malware and provide you with a site scanning facility. Check this now.
1.     Sucuri Security Scanner – Malware Scanner, Auditing, and Security Hardening
Sucuri regularly scans your sites to detect malware. This plugin can scan remotely from their servers, so you don't need to scan on your scanning resources or upload your site.
Another advantage of remote malware scanning is that all data is securely stored with Sucuri, so attackers cannot remove log details to block their tracks. You will always know what happened to your site.
With over 800,000+ active Installation users, Sucuri Security Scanner Plugin is one of the comprehensive and most popular WordPress security plugins. It is a cloud-based security platform that scans, audits, monitors, and protects your site from hacking, malware, DDoS attacks, and other threats.
Security Features such as blacklist removal request, firewall protection web application, hack removal, etc., make it the best WordPress security plugin.
Prices: – Sucuri Security plugin is free for every WordPress site user. This plugin offers you three tiers plans.
Basic at $199.99/year per site
Pro at $299.99/year per site
Business at $499.99/year per site
2.     Wordfence Security – Malware scan and Firewall security WordPress plugin
Wordfence includes a strong firewall and a malware scanner built from the ground up to protect your WordPress site. Their Security Threats Feed with new firewall rules, malware signatures and malicious IP addresses you need to keep your website safe.
Compiled by 2FA and additional features (like Web Application Firewall identification, blocking malicious traffic, limiting login attempts, and many more) make Wordfence the most popular WordPress security solution. Wordfence security scanner scans all your WordPress files, themes, and plugins for many potential problems to protect your site.
Prices: –
Wordfence free
Wordfence Premium at $99/ per year
Wordfence care at $490/ per year
Wordfence response at $950/ per year
3.     Hide My WP Ghost Plugin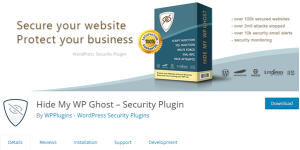 The Hide My WP Ghost plugin helps keep your site safe while also hiding important features of your site from viewers. This plugin is very effective for WordPress security features, like firewall automatically blocking SQL injections, brute force attacks, spam IP blocking and many more.
Its built-in trusted network also adds extra protection to bots and hackers. But what I find cool and very interesting about hiding WP Ghost Plugin is right in the name — its ability to hide the fact that you are using WordPress.
Prices: –
Ghost 1 For Bloggers started at $29.99 for one site.
Ghost 5 For Small Businesses at $149 for 5 Websites security.
Ghost 10 For Midsize Businesses $299 to secure 10 Websites.
Ghost All for Agencies at $640 to Unlimited Websites use.
4.     MalCare WordPress Security Plugin – Cleaner, Malware Scanner, Security Firewall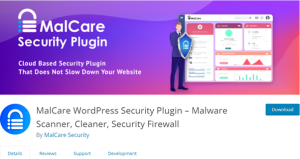 Next, we have another very comprehensive and robust security plugin. MalCare not only automatically cleans a stolen website with a single click but also prevents future attacks. It is one of the most advanced WordPress security plugins, providing fast detection and removal of malware. As MalCare checks your website on its servers, it does not place unnecessary burdens on your server resources.
Prices: – 
This plugin has 3 types of plans for 3 different numbers of sites.
For 1 site Basic $99/year, plus $149/year, and pro $299/year
For 5 sites Basic $349/year, plus $449/year, and pro $999/year
For 20 sites Basic $799/year, plus $999/year, pro $2999/year
5.     Jetpack – WP Security, Speed, Backup, & Growth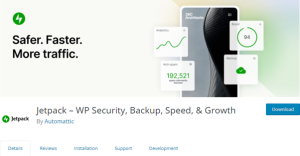 Jetpack is like a mixture of twelve plugins, allowing you to do more with one tool. This plugin monitors your site so you can run your site or business.
Jetpack Security provides easy-to-use, complete WordPress site security, including real-time automatic backup and recovery, malware scanning, and spam protection. Key features such as brute force protection and free time monitoring make it the Best WordPress Security Plugin. With its design, growth, and features, get one of the best WordPress plugins on the market.
Jetpack paid programs offer additional security features — such as spam blocking — and a more comprehensive login to scan your site. The price is divided into three categories:
Prices: –
$7.95/month – Jetpack Backup
$19.95/month – Jetpack Security Daily
$59.95/month – Jetpack Security Real-time
$79.95/month – Jetpack Complete
6.     BulletProof Security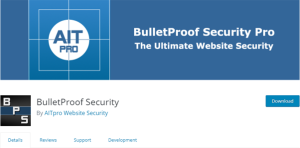 The BulletProof Security plugin scans the .htaccess file to retrieve malicious codes to protect your wp-admin and website folders from attack. It is best suited for advanced developers.
Prices :-
Bulletproof security Pro version costing $69.95 for lifetime with 30 Day Money Back Guarantee, Unlimited Installations, Free Upgrades for Life, Free Technical Support for Life and many more facility.
7.     All In One WP Security & Firewall 
The All-in-One WordPress Security plugin will take the security of your website to a new level. This plugin is easy to use and understand and written by experts. Reduce security risks by looking at the risks and enforcement of recommended WordPress practices and security practices. Some of the highlight features of All In One are:
Password strength tool
Auto-detect duplicate login names
Brute force attack prevention
Track and block login attempts
Add Google reCAPTCHA
Database and file security tools
Blacklist unwanted IPs
Flexible firewall
Scan WordPress for changes
Spam prevention
8.     Shield Security – Scanners, Brute Force Protection, Security Hardening, & Firewall
Shield Security is one of the simplest yet powerful WordPress security plugins with basic scanning, cleaning, and security steps. The main goal of this plugin is to free you from repetitive and complex security tasks so that you can focus on the work. It is one of the few WordPress security plugins limiting access to its settings.
Some features:
Verification of Two-Factor / Multi-Factor Login
Automatically blocks URLs and malicious requests
Malware & WordPress Core File Scanner
Brute Force Protection
Built-in Protection Automatic Spam Recognition
Prices :-
Shield Security offers 3 plans on 2 types of billing bases:
On monthly Billing bases, Shield pro $12/month for per site and shield pro agency $60/month for up to 50 sites
On Yearly Billing bases Shield pro $79/yr for per site, and Shield pro agency $399/month for up to 25 sites
Shield support $59/yr to get email-based customer support for shield free
If you are still getting any issue with security of your website then you should hire WordPress developer from WordPress development company. Pixlogix Infotech Pvt Ltd is a leading WordPress Development services agency in India since 2007 and completed more than 8200+ projects successfully. For more information visit www.pixlogix.com.