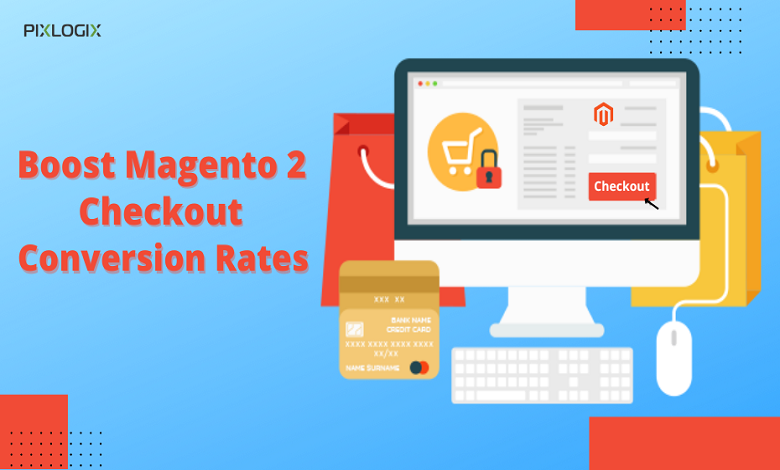 Any eCommerce business depends entirely on the number of leads and visitor activities such as buying products, selecting the desired offer, etc. It helps the store owners boost their sales and generate more traffic. And this, in the end, increases the online store's visibility in the search engines. You must improve Magento 2 Checkout Conversion rates to ensure you remain competitive.
Checkout is an essential step during the entire process of buying a product from the online store. It is the process that customers go through when buying something from you. Seeing a huge zero or falling rate of purchases can be a little upsetting. Naturally, you would want to keep your checkout conversion rates as high as possible.
But the question is HOW???
In this blog, we will take a look at the simple yet effective ways you can enhance the checkout conversion rates for your Magento 2 online store. So, let's take a look at it!
Take help from the static content.
Magento 2 sites with checkout pages have the most static resources. Due to the slow loading speed caused by this, shoppers may decide not to buy the items in their shopping basket. A standard Magento 2 site must load more than 300 JavaScript files, totalling over 3 MB. Magento checkout pages must load more slowly than usual because caching is impossible.
Despite being a fantastic platform, Magento 2's automated JS bundling isn't ideal for most use cases. A robust Content Delivery Network and manual creation of an Advanced JavaScript Bundling are recommended. Of course, you will need a professional Magento 2 development company to do the needful.
Work on improving the page load speed.
One of the most frequent reasons for high bounce rates on websites, including e-commerce sites, is slow load times. The issue with load time is that it impacts all areas of your website, not just your Magento 2 checkout.
According to a Google study, if a web page takes longer than five seconds to load, 90% of visitors would quit. You can do a few simple things to speed up the loading of your checkout page:
Take away extra checkout modules and third-party scripts.
Reduce asset and picture sizes
Improve cookies
Establish a content delivery network (CDN)
Additionally, websites that load more quickly do better in search engine results, particularly Google. Their Core Web Vitals algorithm measures user experience on websites based on load speed. You can hire Magento developers to help you improve the page loads.
Powerful and speedy checkout process.
According to a Forrester study, a well-designed user experience can increase conversion rates by up to 400 percent. Another strategy to increase your conversion rate is to shorten the distance between clicks to your checkout page.
Having fewer checkout steps indicates that your user experience design is simple. You can ask the Magento 2 development company to keep the number of clicks between the home page, product page, and checkout page to a minimum.
The user experience benefits from having as few clicks as possible to get to the checkout page. This objective is aligned with the removal of extra pages that exist between your product and the checkout page.
Get help from the one-click checkout.
A simple way to enhance user experience is by implementing Magento 2's one-page checkout. You may make Magento 2 checkout quicker and easier by utilizing third-party Magento extensions like one-step checkout for Magento 2 with the help of Magento 2 development services providers.
Clicks between the payment page and your Magento 2 one-page checkout can significantly lengthen the time it takes for your server to load pages. But more crucially, it makes clients with good intentions wait longer, which could cause them to lose interest.
Implement multi-page checkout.
The number of tiny steps in the checkout procedure reduces the potential for errors made by your clients. You can pinpoint which step they frequently leave when evaluating the abandoned cart rate and look into the reasons why.
A multi-step checkout process would be ideal for shops selling high-end goods. This style of checkout will be the best choice if your target customers are elderly and low-tech.
Enable alternative payment methods.
Limiting your payment method choice is unnecessary if you use Magento 2's one-step checkout. It's possible that adding extra payment options won't directly increase conversion rates. However, it will make your website stand out from rivals who offer fewer options.
The fact that digital wallets are supported by the most secure payment gateways today is also advantageous. Therefore, the addition of these possibilities should not be too difficult. The preferred payment methods of your consumers must continue to be considered. This may assist you in concentrating on the tactics you can eliminate from your website. Eliminating unneeded payment methods will also cut server load dramatically.
Take help from the trusted certificates and social proofs.
If your site is still expanding, it could be challenging to persuade new clients to buy from you. You might try leveraging social evidence, such as customer ratings and reviews, to solve this issue by giving you and your items more trust.
You may incorporate customer ratings from independent websites like TrustPilot and Google Maps into your websites if you operate an offline business. Even though it can be challenging to earn your initial reviews, you should never use phony reviews since this could result in a Google ban.
Concluding notes
There is no universally applicable approach to increase the conversion rate of your Magento 2 checkout. Depending on its target audience, each website has a particular consumer persona and a different way of prioritizing its initiatives.
You can still use the tips we've compiled here for practically any form of Magento store you have. The effectiveness of the outcomes will primarily depend on your overall marketing plans and the caliber of your products, but using these suggestions will help you get there more quickly.
In the end, it also depends on your chosen Magento 2 development company. Therefore, get in touch with a professional Magento 2 development services provider like Pixlogix Infotech Pvt Ltd is a leading Magento development company in India. Visit the website www.pixlogix.com today.