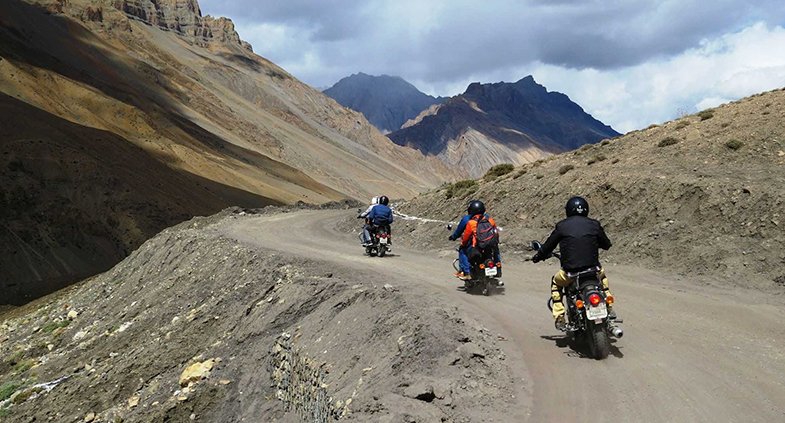 Overview
Leh Ladakh is full of scenic places and an absolute paradise for bike lovers.It's almost every guy and bike lover's dream to get on that bike and ride all the way to Ladakh. Ladakh is not just a travel destination , it's a ride full of experience , emotions and most of all it redefines the inner persona in you and when you come out of the trip you experience this new version of yourself. Renowned to be one of the hardest trips for bikers , this one is sure to blow you away.
There are two routes for the Manali to Leh bike trip. It offers many places to visit , lots of scenic views and the serenity it spreads throughout.
Day 1 – Arrive Manali
Once you've reached Manali via train /bus/rail or any other transportation. Adjust to the surrounding climates and oxygen levels there. If you arrive early in the morning, take a cab and visit tourist destinations of Manali such as Hadimba Devi Temple , Mall Road , Jogini Waterfalls and Manu Temple. If you can spare some extra time , try to squeeze in Solang Valley. The tour guide will go through the entire route and guide you on some rules and regulations.
Day 2 – Manali to Jispa ( 140 kms)
This is a very long and tiresome journey that takes around 12 hours for completion. But the views it throws at you while you ride across will make you lose track of your time. You'll see countless mountains and waterfalls on the way. There is also Atal Tunnel which will bedazzle you and soon as you pass it you reach Tandi. Time to fill up those tanks! Further on you reach your first spot of beauty , i.e , Rohtang Pass. At the end of the day you reach Jispa for an overnight stay at a camp.
Day 3 – Jispa to Padum via Shango La Pass 
Again a very tiring journey of about 140-150 kms , it's time to gear up and get on those steep pathways. The roads here are quite rocky and bumpy so be cautious to avoid any injury. Coupled with mesmerizing landscapes , you tend to forget the roads ahead. Take some nice pictures at Mahakal and the river flowing by. As you move further on , you reach Phutkal Gompa. It is a spiritual hermitage and will guide you. Once you've driven 80 km further , by night you would have reached Padum. Take a good rest.
Day 4 – Padum to Kargil
Start early in the morning as this ride isn't preferred in the nights. Stay at a nice comfy hotel as there are many accommodation options present here. A rustic beauty is on your way!
Day 5 – Kargil to Leh 
This is a 220 km drive which will take around 3-4 hour via Kargil. From here on , you'll witness many tourist hotspots. Cross the river , reach Padum Village and take a look at the Lisir Monastery. Once you've reached Leh go visit the following places – 
Thiksey Monastery

Leh Palace 

Go for souvenir shopping in streets of Leh

Magnetic Hill
Day 6 – Leh to Nubra Valley 
This is going to be an amazing day as you pass the world's highest motorable pass , i.e The Khardung La Pass. Have a refreshing cup of tea there , click some good pictures and continue your adventure passing Deskit Monastery on the way. Driving through these passes can prove difficult at times and should have a good amount of practice prior. Once you've reached Nubra , take a Double Hump Bactrian Camel ride. It is rare and a must try.
Day 7 – Nubra Valley to Pangong Lake 
This 150 km drive is going to be the most beautiful thing you've ever witnessed. Every rider looks forward to this day and it's tranquility the place offers. Shyong village has also opened up in recent times and offers its own share of culture. Pangong Lake is a real beauty with its sparkling water and views that are beyond our imagination. Don't forget to take some good pictures here!
Day 8 – Pangong to Leh 
Today will be the last day at Leh. Visit the Kew Monastery and do some shopping for yourself , friends and family. Have some street food that melts right in your mouth and bursts into an explosion of flavor. But before any of that happens , you must cross some treacherously tough passes such as Chang La. It would be even better to stop at some good lakes , and take in the moment fully. Enjoy the last overnight stay at Leh.
Day 9 – Leh to Sarchu 
After a nice breakfast at the hotel , it is time to bid goodbye to Leh Ladakh. On the way you'll be crossing Upshi , Moore Plains and Baralacha-La. Do not miss the Gata Loops on the way. There is always so much more to see even though you've passed through it. The hilly mountains, mind blowing landscapes , azure waterfalls are never enough. 
Day 10 – Sarchu to Manali 
You'll pass the Baralacha La Pass which is a little complicated to drive with its unpredictability in weather. From there you'll pass through Atal Tunnel and reach Manali by night. An absolutely great stay there will be booked and you can do some exploring by yourself or go shopping or just call it a night.
Day 11 – Departure from Manali 
It is the end of the Leh Ladakh bike trip package and you'll cherish it till the end. Go home , share your experiences , give the gifts you bought to your family and feel grateful for what you have in life.