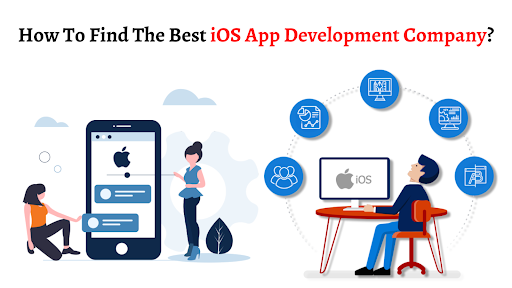 Tech
How To Find The Best iOS App Development Company?
How To Find The Best iOS App Development Company?
In today's tech-savvy world, most service-based enterprises wholly rely on their mobile applications. iOS is the most incredible platform for businesses looking to go mobile and increase their return on investment.  
Are you also looking for a reliable iOS app developer to build an interactive app for your business?
But with so many enterprises claiming to be the best iOS app development company, it has become challenging to identify those who are skilled. 
This blog will discuss the best ways to find the top iPhone app solution providers in 2022 and beyond. 
So, let's dive in. 
Crucial Things To Consider Before Hiring an iOS App Development Company 
1. Years of Experience
Finding iPhone app developers, especially experienced ones, is a challenging task. One of the factors to consider when hiring iOS app developers is experience. Vast years of experience will improve the app's accuracy and decrease the possibility of errors.
2. Check Portfolio
Check out every developer's portfolio when searching for an iOS app developer. Verify that the developer knows all the languages and tech stack required to build your app. 
Verify that the company understands designing, cross-platform development, and the most recent technology. It will ensure the best and most efficient iPhone app development.
3. Successful Projects Delivered
One of the critical things to consider when searching for iOS app developers is how well they perform in similar projects to yours. An iOS app developer's suitability depends on the app type and success rate.
4. Relevant Skills
The top iPhone app development company will have a team solely responsible for the app's design. The app development team must have expertise in UI/UX design. They are crucial since UI/UX affects an app's ability to succeed.
5. Time and Development Costs
A professional app development services provider often requires less time than individual developers, although there is a potential for delay if the project is complex. Ensure you discuss the cost and time frame for development before making your final decision.
How To Find iOS App Developers? 
Go to networking events or meet up with coworkers outside of work to hire an iOS app developer. The best location to meet and hire iPhone app developers is during networking events.
Hire an iOS App Development Firm
The best option for a high-performing app with excellent UI/UX designs is to work with an iOS app development firm. You may get your app created by highly skilled experts by contacting the iOS app development team. A group of developers from a firm will be monitoring the entire development cycle.
Hire App Developers Based on Location
Another option to find iOS developers is to use local mobile app developers. The costs will be low, and communication will be more uncomplicated if you choose an iOS app developer who lives nearby. 
Conclusion
The last few years have seen immense growth in the iOS app development industry. Therefore, if you are a business leader with an iOS app idea, now is the time to invest. The above-mentioned hiring criteria will assist you in finding iPhone app developers who meet your app development needs.