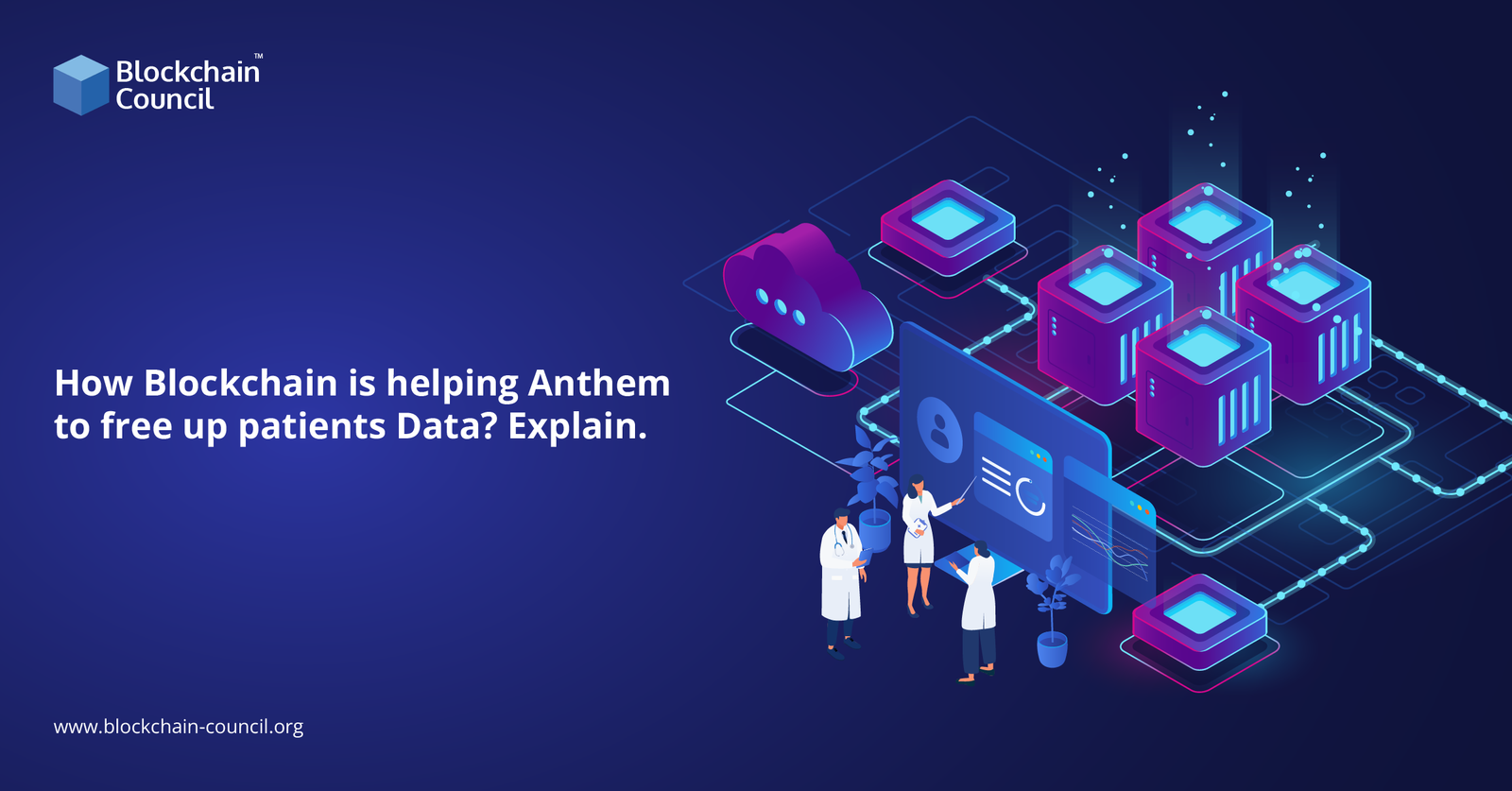 Tech
How Blockchain work with Anthem to regulate patients' Data? Explain.
Introduction
Blockchain has been mainly in headlines for facilitating financial services. In fact, financial institutions are one of the earliest adopters of technology. But, the same features and benefits are also becoming advantageous for the healthcare industry. Big-name healthcare insurance companies like Anthem have been leveraging the blockchain platform to increase the efficiency of their business operations. Due to this approach by big companies, the demand for blockchain professional developers and engineers is getting high. 
Moving ahead, let us learn about the company and how blockchain is assisting it to free up patients' data. 
Table of contents
About Anthem health insurance company

Anthem Inc and blockchain amalgam

Need of blockchain in the healthcare industry

Anthem's approach for large-scale adoption of blockchain  

What features does blockchain technology offer to consumers

Closing Thoughts
About Anthem health insurance company
Anthem, Inc. is a well-known health insurance provider in the United States. 
It works as a part of the Blue Cross Blue Shield Association and is one of the biggest for-profit healthcare firms. The company has 23rd position on the Fortune 500 with over 40 million members. 
The company is based in the state of Indianapolis. However, it runs as the Anthem Blue Cross in California. Here, it looks after over 800,000 customers. After being immensely successful, the company has been leveraging blockchain technology for the past couple of years as well. 
Anthem Inc and blockchain amalgam
The insurance company maintains a number of pilots of blockchain technology. It helps in encrypting the medical data of its millions of customers. Additionally, the blockchain platform applies adequate solutions to secure healthcare information privacy. Due to this, patients are able to monitor and share their medical information without any fear of leaks or misuse. 
Here, the most significant application blockchain brings in is to establish a trusted system between parties. The blockchain engineer team agrees with the senior vice president of Anthem about confusion regarding information rights among parties. 
As per him, due to different reasons, the involved parties, whether it's employers and medical plans, providers and health plans, or consumers, the information rights were not clear. In fact, there was no practical solution to tell which parties have rights to which data. Moreover, it was challenging to establish a private and trusted system that empowers consumers to handle who shares their data. 
But, with the facilities of blockchain technology, all these features have become true for the company. In fact, Anthem has been testing the identity management services by block-chain for some of its members since 2020.
Need of blockchain in the healthcare industry
In existing health care service systems, consumers have to deal with a considerable assortment of their medical data. This data exists in a number of places like medical professionals' offices, labs, and even in the different insurance companies' claims. Basically, the existing system is manual and a lot to handle, which causes huge inconvenience to consumers. 
Hence, blockchain being an enabling platform, healthcare companies can record all the data. Also, it can process it to be readily accessible to different parties that require the information. 
Blockchain professional teams believe that technology can make the service run smoothly by simplifying the sharing experiences. In addition to it, companies also get an easy way to store all this data altogether from different sources. 
Anthem's approach for large-scale adoption of blockchain  
Anthem made the blockchain system live for about 200 company employees in the earlier stage. These were the pilot test group. Then, in early 2020, Anthem decided to roll out the system in different phases for its members. Here, the aim was to make the blockchain feature available to all its over 40 million members and more in the upcoming 2-3 years.  
At the present time, the Anthem pilot program allows users to grant access to their medical records to different health care providers with just one click. Here, the members-only need to scan the given QR code and immediately grant permission to access their health data. However, providers can access the data of the consumers only for a limited period. 
Further, the company is looking forward to bringing more use cases of block-chain into their system. Due to the positive response from Anthem, many other healthcare companies might come forward to work with block-chain. And this might boost the need for blockchain professional developers in the healthcare industry. 
READ MORE:- Benefits of Onsite Training
What features does blockchain technology offer to consumers?
One of the key features that block-chain brings is a permission-based system. With such a system, consumers can manage their healthcare data and own identity with the help of block-chain technology. Furthermore, they can share their healthcare data with medical professionals, their families, or caregivers. In addition to it, consumers can track all the processes. 
Blockchain technology operates by leveraging a public ledger for tracking complete cycles as well as the origin of information sources. Further, it connects those sources to update data in a decentralized manner. 
It is possible as block-chain ingrains the original data source in the information itself. Hence, losing, modifying, etc., becomes impossible with the data. 
Aside from this, block-chain technology in healthcare can also help in coordinating consumer benefits among different health insurance companies. Hence, by completing a blockchain course online, you can open a robust path for your bright career. 
Closing Thoughts
We can say that the most significant advantage of block-chain is the collaboration it provides between different stakeholders. Due to this, companies can share benefits with one another without compromising their intellectual property. Anthem as well wants to maintain high privacy for its proprietary information. But simultaneously enable sharing of insights that facilitate effective care and treatment by doctors. The access to up-to-date medical information of the patients will allow doctors to give the proper care. 
Check out the best platform to receive the blockchain certification India: the BLOCKCHAIN COUNCIL. Here, you can choose among various blockchain-based certifications to upgrade your professional career.