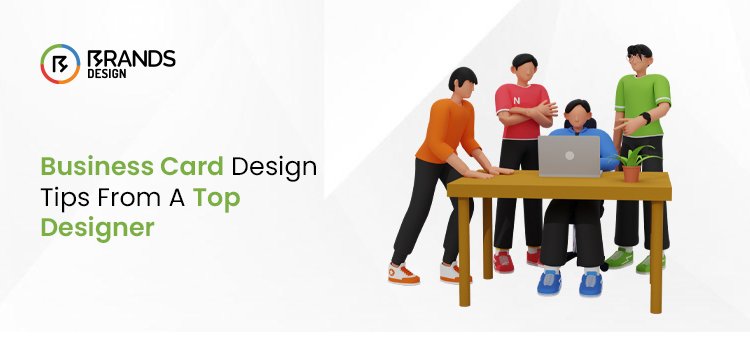 Business
Business Card Design Tips from a Top Designer
The design of a business card is an important part of any business identity as it is the first part of your brand to be seen by potential customers and clients. The way a business card is designed can have a significant impact on how people perceive you and can influence their decisions to do business with you. A professional business card design is an easy way to let everyone who comes into contact with it know about your business and what you can offer them.
As you may have noticed, creating a business card is far more complex than simply putting an image and some copy on it. Design is the first thing that speaks to the receiver, and if your card looks unprofessional, then your brand has just taken a step back.
But don't you worry; we have compiled easy steps to craft a perfect business card design. It will surely help you!
This may sound like a no-brainer, but you would be surprised how often people design their business cards without a clear idea of what they want to communicate. The benefits go beyond the graphic design end of things. Once you have an established sense of self, you're able to focus more on your needs as a consumer and less on what others expect from you.
Your business cards are a way to represent your personal brand identity to others. But it can be hard to know where to start. After all, knowing your values, mission, and why you're excited to be in business is just the beginning of the process.
Business Card Design In a Few Steps
Are you looking for the best business card design? A premium business card is one of the best ways to stand out, particularly in a competitive industry. Getting a well-designed card makes an immediate statement about your company and is a great way to impress prospective customers and colleagues.
Here are the steps that you need to consider:
If you have your heart set on a traditional business card, you can skip ahead to the second step. If not, keep reading for some exciting new ideas about the look of your card.
As printing technology advances, professionals have more options for creating unique shapes. The die-cut printing method allows you to create any shape and still print in bulk.
For a friendlier look, you could round the corners of your business card.  You can make your business stand out by using a variety of shapes. Popular choices include animal mascots and outlines of products you sell. If you want to go your own way, though, there are no rules.
You can even use clever cutting to build your business card theme around the employee picture. This makes the card more personable and, therefore, approachable.  If you want to make a fun impression, consider using creative shapes for your business cards. You should also keep in mind the logistics of your industry and the local area.
Select an Appropriate Size
The size of the card depends on the standard in the country where you live. Even if you want to be different, it's a good idea to know what everyone else is doing so that you can be sure your card stands out.
When designing a card, keep in mind these three zones:
Bleed Area: The parts of the card that aren't likely to be cut off.
Trim Line: The trim line is the guideline for cutting cards.
Safety Line: Don't let the text or other important elements fall outside this line.
As we begin to plot the visual elements of your business card design, let's start with the logo. The logo should be at the center of your business card, but some flourishes and secondary graphics can also be useful.
When designing business cards, you can choose to show only your logo on one side, or you can put contact information on both sides. The latter option is often used when the logo is small and doesn't need much space.
This is only one strategy you could try, though. Feel free to experiment with logo placement until you find one that works for you.
At the end of the day, if a business card is cluttered or too much information is added, it takes away from your message.  Be careful not to lose sight of the most important elements: graphics, text, and background should be clear, readable, and appealing in color.
Graphics are a great way to show off your personality. For example, you could use colors to communicate your brand's personality without explicitly stating it. To seem casual and approachable, you might use a cute cartoon and some bright colors.
Another popular trend is to create curiosity by leaving a little mystery. Typically a brand will place an image on one side and all the necessary information on the other.
Insert Necessary Information
The information on your business card can be tailored to your needs. Freelancers may not need a postal address, while those who consult face-to-face may want to include it. Or maybe you're drawing attention to your impressive social media following!
So, now you have to think about what's going to be on your business card. Below are a few common options, so you can choose which ones to include and which ones not to include.
Company Name
Your Name
Phone Number
Email
Job title
Website URL
Social Links
Address
QR Code
Slogan
Remember to keep your business card's design handy. People will forget your number and other contact information, but they may still want to contact you later.
People receive many business cards every day. You want yours to stand out from the rest and make a positive impression. Don't take shortcuts when it comes to designing your card. Spend ample time coming up with a design that works, then find a skilled graphic designer to turn your vision into reality.