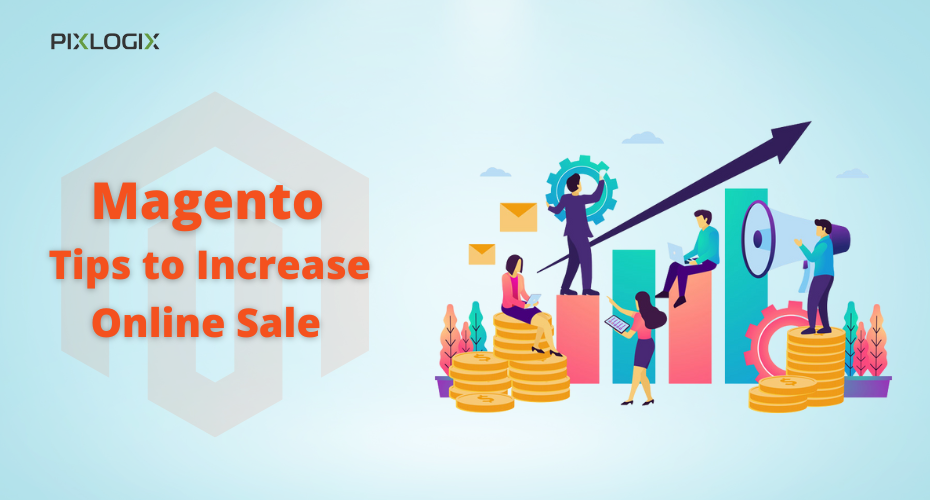 Business
Boost Your Magento Sale With These Simple Strategies
Are your ecommerce sales going down? Or want to know how to improve your conversions on Magento store sales? Or maybe you are worried about how to boost your online sales?
So, you should read this blog to get all the information about Magento Stores, why ecommerce sales are decreasing, and some fantastic tips to increase ecommerce sales.
As open source software, Magento is the best Ecommerce platform where you can customize the core coding of your ecommerce store. With the help of this feature, you can create a unique website that builds your brand. If you are an online business owner, then you definitely choose your needs and are well aware of your targeted audience.
When we talk about this ecommerce website builder's popularity, many big companies like Olympus, Warby Parker, Coca-Cola, FoxConnect, Ford, and Nike are Magento users.
Now you think if Magento has this much popularity, then why should you are not getting high sales? Well, read below to know the reason for reducing sales, then get to know some fantastic Magento tips and tricks for enhancing the website.
Reasons for low eCommerce Sales & Tips to Increase online sales
There are several reasons and activities that affect your eCommerce sales. Magento is open and free to customize, but it requires coding knowledge to build a fully functional website. Here I listed some significant issues that you should resolve for better growth of your website and also some tips to improve those issues.
1.     Poor Customer Support
When we love any product or service, we cannot just become loyal to the brand but recommend it to our loved ones. This principle is the same for your customers. If you provide an excellent customer service experience, they will come to your repetitive customers and give word of mouth recommendations. On the other hand, if your customer is unsatisfied and gets a poor experience, they may prompt complaints, negative PR, and abandoned shopping carts. And so time this can become a big reason to destroy many businesses.
Tips to Improve Online Store Sales:
Make sure that your customer can easily find your contact information.
Provide multiple ways to contact you and solve their query.
Build a responsive and resolving Customer Service team for quick response and a friendly demeanor.
Either outsource your Customer Service team or rely on a contact us form.
Try every possible way to provide a good customer experience for your business growth.
Encourage your consumers to generate their content, such as collated feedback, photos, Q&A, etc., and share that one with your store.
2.     Outdated or Deformed website design
Online users are shifting their screens significantly faster. So, to grab the attention, your Magento store's design should be eye-catching and attractive, holding attention in the blink of an eye.
If your website does not look professional and is easy for your customers, they can move out of your web store. Additionally, a well-designed website can quickly gain the trust of the users. If your Magento store is not designed well to meet your users' expectations, they can go to your competitor's website to buy products.
Tips for Improve Online Sales:
Keep in mind that your Magento Store is designed to attract visitors. You can hire any Magento developer or agency to improve your website conversion and keep that up-to-date.
Attractive Rich Media
Provide an accurate site search to your users
Improve UX/UI
Understand the goal of your website and use content accordingly
Keep up to date with market trends
Use AI to personalize your website for your audience
3.     Lack of Mobile Friendly Features
Nowadays, over 70% of the audience uses mobile to shop online. Moreover, Google also prioritizes mobile-friendly sites on their SERPs. And high ranking means significant traffic. So, check is your Magento store optimized for mobile users. If not, then it is recommended to develop a responsive website. Responsive design makes your website look excellent and professional on any device. You can lose over half of your online customers to lacking these features.
Tips to Increase Conversions:
Use Mobile friendly test to fix all responsive errors
Ensure your Magento store is speedy. You can use speed test tools to determine your store's overall performance.
Use viable search indexing
Make sure all your product details are visible on every device.
Give the control level of zoom to your customers
Provide all information about costs and charges
4.   Short Product Line
As you know, not only are all the people different but their interests and likes are different. In this way, you should maintain a wide variety of products for your customers. Over and above that, if you and your competitor are selling products, you cannot expect growth without growing your product line. For example: suppose you are just selling lemonade. But your customers may want other flavors like pink lemonade, Roasted Peach, Lavender Thyme, or something else. Then why do they come to your site to buy lemonade but don't buy anything because they are not getting their flavor?
Tips for Improve Conversion:
Do R&D and survey to know the needs of the market
Think about your audience and try to give a large variety of required Products.
5.     Relying on the Same Channels
How do you expect to grow your revenue if you always remain on the same sales channels? Once you maximize your store reach, you need to wait in the online market to get more clients. Is there any better option? And the answer is yes. With some research, you can find other busy channels where you can promote your product and reach new audiences. So always find a different way to promote your products on new channels. Those practices can give you more customers and unexpected growth.
Tips for Increase Online Store Sales:
Use multiple channels
Follow the market trends
Research the platform where your products categories are popular
6.     Lack of Marketing
Many people think marketing is the cost, but it is an investment in your business. You can easily acquire a new client base when you promote your business correctly. According to Statista Research, 44% of online users admitted that they buy a product after seeing the online advertisement for the product. Thus, if you don't invest in your marketing of goods, you are losing a large audience, and your competitor will take advantage of that.
Tips to Boost your Online Sales:
Create a Good Ratio of all Suitable Marketing Techniques
Run and Optimize your Online advertisement
Find the season of your product and live your Google ads
7.     Take it Simple
People don't have time for unnecessary information. They would look for only the information that they want. Besides, most people leave the site because of improper navigation. It will change their user experience. In the modern era, people love simple and to-the-point content. And if you are not optimizing your content, it may deliver the wrong messages to the visitors.
Tips for Increasing Online sales:
Enable navigation bars on all pages to explore various products quickly.
Ensure your website is easy to use for your customer.
Keep only the necessary details, images, and videos.
Be conscious while creating content.
8.     Bad Website System Architecture
As mentioned earlier, Customer satisfaction is essential, so you optimize your product and website content. But does your site have a fast loading speed of loading product images quickly on-site? Does your site search provide relevant results? If any of them fails, it can destroy your goodwill and overall marketing efforts. Therefore, to protect your Magento Store, solve these technical problems, and improve your website's performance.
Tips for Improve
Create a custom thank you page or go back to the shop page to allow customers to continue shopping after adding an item to the cart.
Operate Magento in the production mode.
Enable the cart review and edit while processing the order.
Give a detailed summary after the purchasing process.
Minify CSS files
Implement GZIP compression
Use Varnish for caching.
By using all these tips, you can improve your online sales. In these updates, most of them are easy to do for an experienced Magento developer.
Therefore, you should hire a Magento development company that helps you improve your Magento store performance and enhance business growth. Pixlogix Infotech is one of the leading Magento development agencies offering you the best ecommerce services. Here you can get all kinds of customization and a fully functional website, as well as optimize your website to perform well in the market.
The team of Pixlogix Infotech can help you design, develop, and promote your online business. In short, it is the all-in-one solution for your company. Contact them and get a free consultation now.